May 12, 2022.
PHILADELPHIANS ANNOUNCE THEIR PRIORITY YOUTH PICKS AHEAD OF MINOR LEAGUE CRICKET 2022 DRAFTS
The Philadelphians Cricket franchise is excited to announce our priority youth picks for the Minor League Cricket 2022 season in the form of Abhayjit(Yash) Khangura, Anirudh Immanuel, and Varun Sai Mantha.
At the very core of the operating model of Minor League Cricket is the plan to provide a strong platform for young and upcoming cricketers to take up the sport professionally in America and excel while doing so. The Philadelphians Cricket franchise believes strongly in building this foundation by means of encouraging and investing in youth. The franchise has done this by drafting in 9 players under the age of 21 since its inception, a number higher than what is mandated by the league. Apart from shaping up these youngsters for their respective roles in the team and providing competitive game opportunities, the franchise invests in their overall development by enabling access to world class coaching staff and training facilities in partnership with our affiliated Major League Cricket Academies in Philadelphia and New Jersey.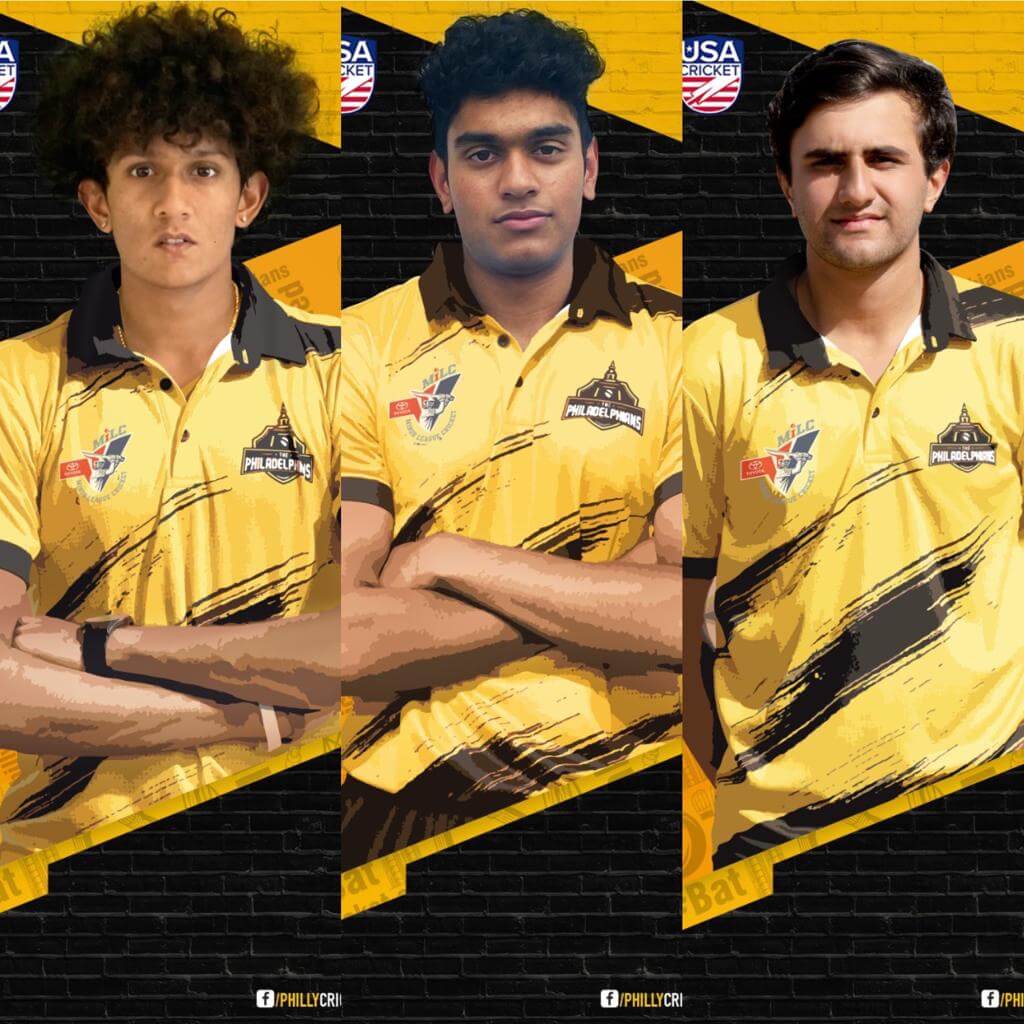 While Khangura has been a household name in Philly since the exhibition season, Immanuel and Mantha are one of the brightest and fastest growing names in the American youth cricket circuit. Khangura showcased his skillset as an all rounder last year stepping up as a medium pacer and a top order batsman when the team needed him, bringing up impressive performances while doing so. Immanuel is the most exciting wrist spinning all rounder in the North East as of date while Mantha can prove lethal with his left arm medium pace on a given day.
In a chat with the franchise, Khangura says "Philly has been my home for MiLC since the beginning. I've had an amazing experience at The Philadelphians camp and am looking forward to a great season this year.".
Immanuel expressed his excitement in joining the camp by stating "The most impressive attribute about Philadelphians is their positive environment and process driven approach which clearly evaluated my skill sets and outlined my roles and expectations on dart. As a young cricketer Philadelphians make me feel confident and a key member of their sporting family, I cannot wait any further to wear my Yellove Jersey".
Mantha added "I am thrilled to be part of The Philadelphians. Philly cricket brings international professional cricketers with experience playing at highest level. Their guidance will be of great experience for an aspiring cricketer like me. I am looking forward to take this opportunity to improve my game and be part of the team's success.".
Summarizing the franchise's views on these exciting young guns, Mr. Santosh Kandasamy, Founding Partner – The Philadelphians Cricket LLC says, "Yash has been exposed to the pressures of professional cricket last season doing exceedingly well for us. Given his hard work off season with our coaches, we cannot wait for him to show the world how good of an all rounder he is. Varun is someone who has been on our radar for last 3 years through East Coast Youth League and the Dream Cricket Major League academy. We strongly feel that he has got the ability to compete at a professional level this season. We are also confident that will only get better at his trade by working closely with a mentor like Liam Plunkett. About Anirudh, we had spotted him while he was 12 years old during a tryout for the Atlantic regional team and we have been scouting him ever since. Kudos to the Dream Cricket Major League Academy for nurturing a talent such as Anirudh over the years to prepare him to compete at the next level. Overall, I personally am thrilled to see these youngsters take the field for The Philadelphians and am very confident that they will turn several heads through telling performances for many years to come."
Minor League Cricket Season 2 kicks off on June 25, 2022 with the domestic player drafts set to be held on May 12, 2022.