May 12, 2022.
MILIND KUMAR RETAINED BY THE PHILADELPHIANS AS A MARQUEE PLAYER FOR MINOR LEAGUE CRICKET 2022
The Philadelphians Cricket franchise is excited to announce that former India List A/IPL star Milind Kumar will be retained by the franchise as our Marquee signing for the Minor League Cricket 2022 season.
Milind is an Indian born professional cricketer who recently shifted his base to the United States after making a mark in the highly competitive Indian domestic cricket circuit. As a contracted List A cricketer in India, he attained his peak in the 2018-2019 Ranji Trophy season amassing a mammoth 1331 runs and in the process being regarded as one of the best batsmen in the country that year. Apart from his Ranji Trophy laurels, Milind's colorful cricketing profile boasts of several top performances in the Syed Mustaq Ali Trophy(T20) as well as Duleep Trophy(One Day) all of which gave him prominence and resulted in him being roped in by renowned franchises like "Royal Challengers Bangalore" and "Delhi Daredevils" in the Indian Premier League which is regarded as one of the world's largest private franchise based sporting leagues involving the cream of Indian and International cricketing talent.
Joining The Philadelphians camp in the middle of Minor League 2021 season, Milind led the franchise to a string of crucial victories tightening the race to the playoffs till the very last game in the Eastern Division. Given his experience playing internationally and also being highly active in the local cricketing circuit in America, one can expect him to put up a stellar all-round show this season.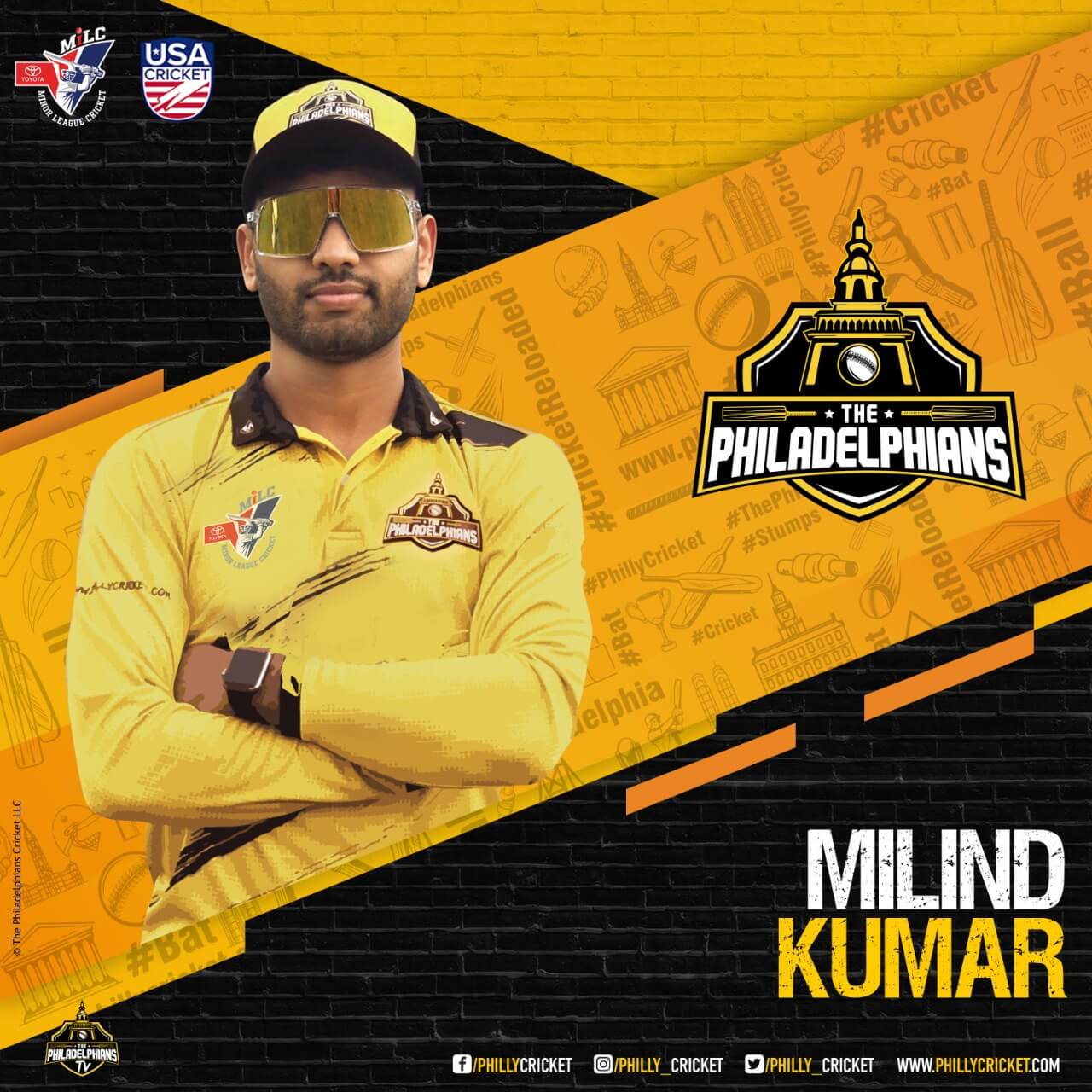 "Last year was a big and special move for me professionally shifting base from India to the United States on contract with Major League Cricket. My goal was to understand the US cricketing landscape, blend in and continue to find opportunities to play high quality and competitive cricket to advance my cricketing career. When The Philadelphians offered me a captaincy role with the franchise, I did not have to think twice as I relate to their professional setup and approach while keeping the overall team atmosphere competitive and happy. It's a crucial balance to strike. My first year in the leadership role last year was to partner with the team management to build a team which could compete and go deeper in the minor league championship. I think we had a solid season last year. This year (2022), based on the learnings from last year, I think we have built a solid squad with a mix of highly skilled experienced and young players who can help us achieve our goal of winning the Minor League championship. On a personal front, I would like to contribute in any which way possible and try to leave an impact in every game helping my team win. ", says Milind.
"Milind Kumar is a very popular cricketing name in India and we aren't surprised to see him establish his credentials in the United States fairly quickly. A player and leader of his caliber is bound to take the franchise and overall professional cricketing standards in the country to the next level. Our wish is to see him represent team USA in the 2024 T20 Cricket World Cup happening at home. Sending my best wishes to him for the season ahead.", says Mr. Murali Kailashnath, Founding Partner – The Philadelphians Cricket LLC.
Minor League Cricket Season 2 kicks off on June 25, 2022 with the domestic player drafts set to be held on May 12, 2022.