May 12, 2022.
LIAM PLUNKETT SET TO MAKE HIS DEBUT IN PROFESSIONAL CRICKET IN USA WITH THE PHILADELPHIANS IN MINOR LEAGUE CRICKET 2022
The Philadelphians Cricket franchise is thrilled to announce that former England World Cup winning Superstar and Pennsylvania resident, Liam Plunkett, will officially take field for the franchise as our Marquee player in the Minor League Cricket 2022 season.
Born in Middlesbrough, England, Liam started his professional Cricketing career with English county side Durham in 2003 before making his international debut for England in Tests and ODIs in 2005. Considered as one of the best bowlers in world cricket, Liam excelled throughout his career mastering the art of fast bowling while also developing his profile as a very capable middle order batsman at the highest level winning his country several laurels in this process. The best of which would remain his stellar performances in the ICC 2019 Cricket World Cup especially in the Finals that led to his country lifting the trophy for the first time in their cricketing history. An honor extremely few cricketers in the world can claim their stake at, Liam lifted the World Cup trophy at home in Lords, London along with his team mates to the joy of his fans, friends and family.
Having represented over 16 professional cricketing sides in the world across various leagues travelling 20+ countries, Liam made a professional move to the United States last year into the suburbs of Philadelphia with his wife who is an American citizen based out of West Chester, PA.
His decision has already proven very beneficial and vital for American Cricketing grassroots as Liam can be seen donning his role as the Head Coach at the Major League Cricket Academy in Philadelphia while also traveling across the country mentoring professional cricketers contracted with Major League Cricket and with the national squad.
Given all of this history and his vast experience, we are beyond excited and cannot wait to see Liam wear the Philadelphians colors to thrill cricket fans at Exton Park and around the country.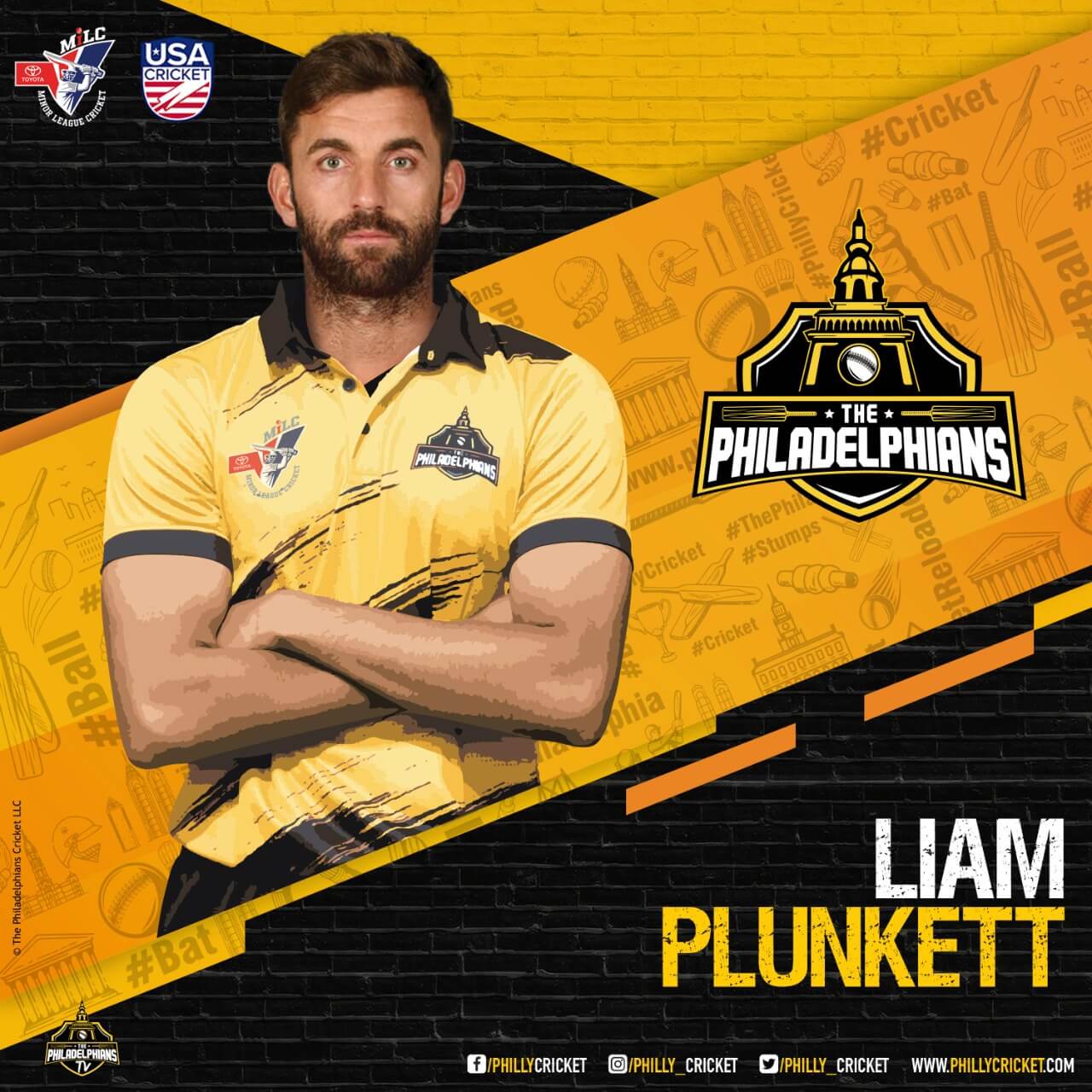 "It's a huge opportunity for me to represent Philadelphia and to play for The Philadelphians. Coming to America 15 years ago and having met my wife here, she's from Philadelphia as you know, if someone told me back then that I'd one day be representing the city professionally, I'd have probably laughed at them. To get this opportunity to shape this special team and hopefully make it one of the best in USA and to win some silverware on top of that really excites me. To help grow the sport in Philadelphia and to make it a word that comes out of people's mouth, "The Philadelphians Cricket Team", would be a huge success. I'm looking forward to it.", says Liam.
"The addition of internationally recognized players like Liam Plunkett to MLC is a positive sign and shows the increasing global interest in the rapidly emerging American Cricket market. Wishing Liam the best in this new phase of his professional journey.", says Sameer Mehta, Co-Founder, Major League Cricket.
"It is difficult to describe our excitement when we first met Liam in 2020 and realized that this Super Cricketer was going to be living 6 miles from our ground. He is here now and our excitement has only increased as we get to know each other and realize how blessed we are to have such a leader and a mentor in our midst. Liam's presence and his humility bring a unique combination to the sport and will no doubt play a huge part in our future growth and success. Liam's positive influence on cricket in the USA is not in doubt and we are proud to be part of his successful cricket career in his new home.", says Mr. Ernie Precious, Founding Partner – The Philadelphians Cricket LLC.
Minor League Cricket Season 2 kicks off on June 25, 2022 with the domestic player drafts set to be held on May 12, 2022.