May 15, 2022.
THE PHILADELPHIANS ANNOUNCE PICKS AT THE MINOR LEAGUE CRICKET DRAFTS
The Philadelphians Cricket franchise is excited to announce our picks at the Minor League Cricket 2022 drafts. One of the most awaited days on the American cricket calendar, the Minor League Cricket drafts took place on Thursday, May 12, 2022, with the Eastern Division kicking off the proceedings at 5 PM EDT.
The draft day provides an excellent opportunity for all franchises to fill in key roster slots from a pool of highly skilled and promising domestic cricketers.
Entering the draft with 4 other Eastern Division teams, Empire State Titans, Manhattan Yorkers, New Jersey Stallions, and New Jersey Somerset Cavaliers, the franchise was assigned draw no.3 in a "Snake Draft" format and lost no opportunity in making the most of it by handpicking six uniquely skilled players, four of whom live in and around Philadelphia being highly active in the local cricketing circuit.
Getting first choice players in each selection round meant the franchise was able to fill in key roles helping create the required balance before the names for the Wild Card(1 slot) and Free Agents(2 slots) are finalized..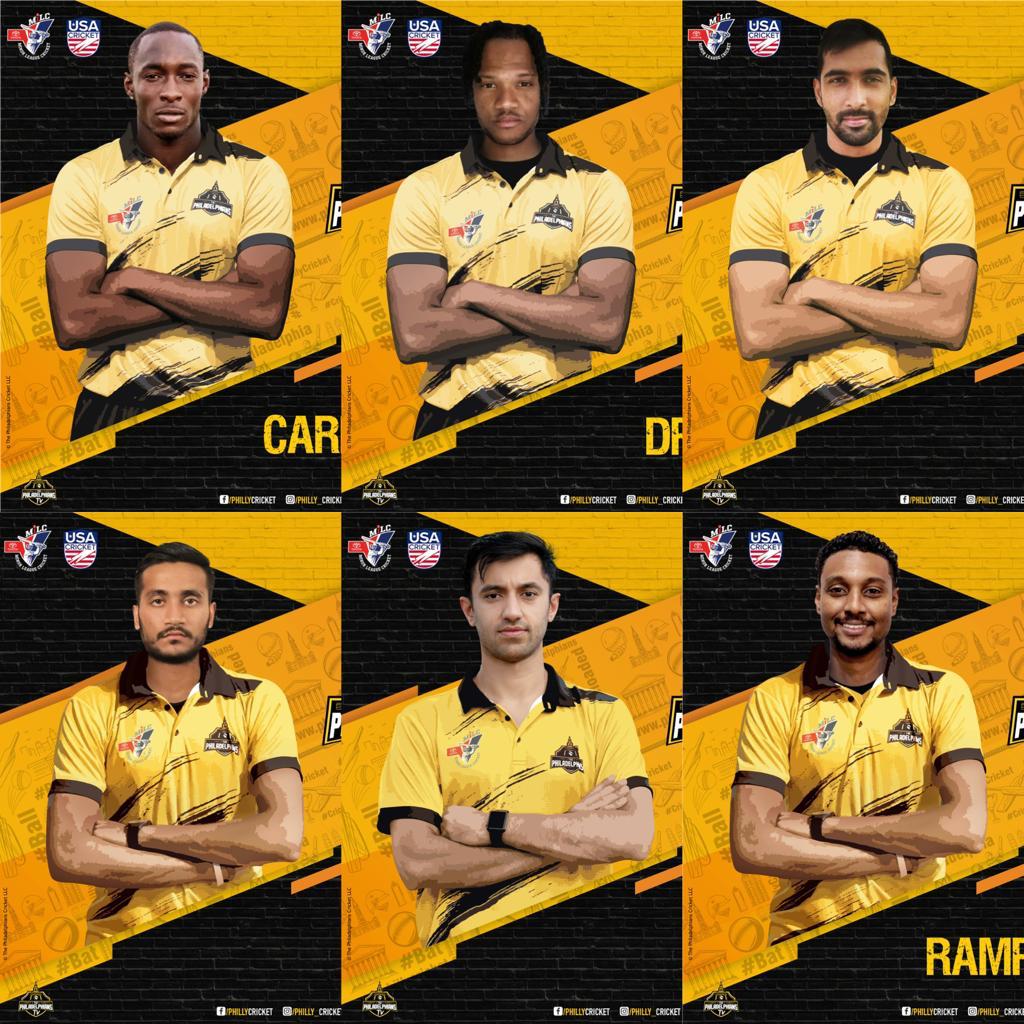 Players selected as a part of this draft include pick #1 and team USA member Trinson Carmichael who mesmerized everyone in Minor League Cricket 2021 season by picking 21 wickets at an average of 12.62 ending up as one of the most effective bowlers in the league and subsequently receiving a national squad call for the 2021 ICC T20 World Cup Americas Qualifiers held in Antigua in Nov 2021.
Following Carmichael was Juanoy Drysdale at pick#2. Drysdale is regarded as one of the most feared fast bowlers in the American domestic cricket scene especially in the highly competitive North Eastern leagues. Known for his targeted pace, Drysdale has the knack of picking early wickets and also controlling the run flow in crucial middle overs enabling his team to tighten the noose around the opposition batting order.
At pick#3 came Syed Maaez Bin Veqar who is considered an out and out Philly cricketing product having spent majority of his formative years playing in domestic leagues in Philly while also representing Drexel University at a national level. Veqar's highpoint was being selected as part of chosen few in the 2019 USA Cricket national combines before he took a brief hiatus to head to Pakistan to hone his skills in the domestic circuit there playing alongside professionals for team PIA.
Following Veqar into the "yellove" squad from the drafts was 18-year-old fast bowling sensation Soripul Islam at pick#4. Islam picked up cricket seriously only a few years ago but has quickly risen up the ladder to be known as one of the fearsome fast bowlers in the region rubbing shoulders with experienced professionals due to his ability to enable lateral movement with the new ball while keeping the batsmen on their feet with nippy pace. His 100+ wickets over a span of 3 seasons is a testament of his skillset.
Next in line at pick #5 was the Doctor in the house, Hayat Khan. Khan is known as an able medium pace bowling all-rounder who represented Philly in Minor League Cricket 2021 and is making a sort of a comeback. A noteworthy moment last season was when Khan made his debut towards the latter half of the season after recovering from a fractured leg.
Saving the best for the last, pick#6 for the franchise was former Barbados First Class player and current USA resident Mario Rampersaud who is contracted with Major League Cricket and is also a batting coach at our affiliate Major League Cricket Philadelphia. Rampersaud is regarded as one of the best wicket keepers in the country at present and a proven match winner with the bat. Having played for the East Bay Blazers in Minor League Cricket 2021, we're sure Mario is going to represent the city of brotherly love with all zest.
Reactions from the players to the news of getting drafted by The Philadelphians.
Juanoy Drysdale – "This is really a great opportunity to be drafted by Philadelphians. I've been doing the work and being recognized by such an astonishing team is truly a blessing. I'm honored and will continue to do my best while being a part of my new family.".
Soripul Islam – "I'm honored to play for my city team in the Minor League Cricket season of 2022. I'm very excited to demonstrate my abilities in front of top-level players. Team Philadelphians encourages young players, and as a player under the age of 19, I aim to contribute to my team's victory this year.".
Mario Rampersaud – "Having a solid cricketing background is important! With this experience along with my pre-season preparations. I excitingly look forward to winning as many games as possible for The Philadelphians. Stay tuned as I look forward to bringing the heat to Philly with good consistent performances both in front and behinds the stumps. God has me in a really good mental space and I am elated and honored to be repping the Philly logo on my heart for the upcoming MiLC competition! Let's Go Philly.".
Maaez Veqar – "Excited, honored, humbled. I played cricket for 5 years in Philly, made great relationships, participated in high octane cricket matches and celebrated the cricket in the city with my fellow Philadelphians. For me playing for The Philadelphians is playing for my community, my city, my friends and family that had been the encouragement for me to pursue cricket at higher levels. That passion and motivation is enough to fuel me to do my best to contribute to the success of the team. I cannot wait to get in the park with my "home" city's logo, representative of a lot more than just cricket.".
Hayat Khan – "I am grateful to be returning to play for The Philadelphians. Unfortunately, I missed the bulk of last season due to an injury but I learned a lot from being around the team. I can't wait to get on the field this season and help bring the championship home to Philly!".
"At this year's draft, we were focused on getting certain names that'd offer a diverse set of player skillset bringing in a good mix of experienced and young professionals. Trinson can completely eliminate the factor of not having a seamer in the power play to open the new ball and the numbers don't lie from last season. This opens up a lot of exciting options for the team management. We'd penned down Juanoy's name while planning for a fast bowler consider ourselves lucky to have had him available till round 2. Maaez, for a long time, was the only ray of hope for any Philly based Cricketer to make it to the USA national team. I would say this is almost a steal in the draft for The Philadelphians. Our head coach had spotted Hayat last year during franchise tryouts and we've been trying to get him into the squad ever since. Unfortunately, he had to miss a majority of the games last season due to a fractured leg but he's now made a tremendous recovery with focused rehab. Having a Wicket Keeper who has played first class cricket is a blessing for any team and Mario checks that box for us wonderfully well. He's one of the nicest guys around and we are sure he will add great value to the team by providing inputs as and when needed in both on and off the field. Overall, all these players have expressed keenness to perform at the highest level of domestic cricket in USA and they have also put in a lot of hard work off season to make themselves ready. Very excited to see all these super talented cricketers wear the black and yellow this summer and help the franchise put up a good show.", says Mr. Santosh Kandasamy, Founding Partner – The Philadelphians Cricket LLC.
Minor League Cricket Season 2 kicks off on June 25, 2022.